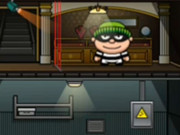 Bob The Robber
Kategoria :
escape
Oceny graczy :
(0)
---
Opis :
As a professional thief, your mission is to sneak into someone else's home to steal money and eventually escape from the house. But don't be caught by monitors, robots, or other people, or it will trigger an alarm. If someone finds you, use space key to knock him down. This game tests your wisdom and strategy. Have fun with this interesting game.
Hasła :
Timing, Stealth, room, robot, Relaxation, platform, kids, escape, collecting, fish
Control :
Use keyboard to play.
Author :
kizi.com
---
Komentarze
Zaloguj się lub zarejestruj, aby dodać komentarz