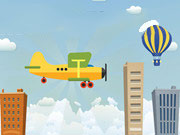 Catching The Flight
Kategoria :
defense
Oceny graczy :
(0)
---
Opis :
This game is a newly developed heavy flight game in which the players need to use the mouse to avoid the plane rushing the obstacles. If the height of the plane is too high or too low, the plane will also bomb. So do not you want to have a try about this game? Join us quickly!
Hasła :
Rocket, plane, Obstacle, kids, HTML5, highscore, flight, defense, collecting, Boy,
Control :
use the mouse to click or touch the screen.
Author :
cargamesonline.biz
---
Komentarze
Zaloguj się lub zarejestruj, aby dodać komentarz