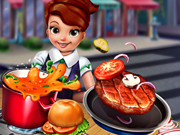 Cooking Fast: Hotdogs And Burgers Craze
Kategoria :
cooking
Oceny graczy :
(0)
---
Opis :
Have you ever dreamed of owning a fast food restaurant? Try to find the dream you once had in the game world! You must make a variety of fast foods, such as sandwiches, burgers, and fries, according to customer requirements. Please be aware that the patience of the customer is limited and it is important to serve the customer within a limited time. In addition, you can speed up cooking by upgrading tableware and quick clicks. Try to run your store and scale up to unlock more food! Good luck!
Hasła :
Timing, Restaurant, matching, Management, kids, Girl, food, Cooking, Business, tablet
Control :
Use your mouse to play.
Author :
dariagames.com
---
Komentarze
Zaloguj się lub zarejestruj, aby dodać komentarz