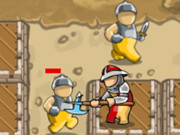 Crusader Defense
---
Opis :
The enemy is attacking your castle, you must kill them all. Let your brave soldiers use arrows and knives to kill them and keep the castle safe. You have to use the right strategy, and distribute the soldiers in different places. Have fun play with Crusader Defense. Good luck.
Hasła :
tower-defense, strategy, Killing, kids, HTML5, defense, collecting, Boy
Control :
Use the mouse to play.
Author :
a10
---
Komentarze
Zaloguj się lub zarejestruj, aby dodać komentarz