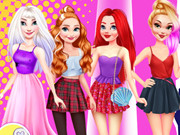 Disney Love Party
Kategoria :
girl
Oceny graczy :
(0)
---
Opis :
Harley Quinn is a very warm-hearted friend. One day the princesses have no boyfriends to accompany them. So Harley Quinn holds a love party for her princess friends. In the game, the princesses choose their most beautiful clothes. Finally, they happily took photos together. Enjoy it!
Hasła :
Princess, Movie, Love, kids, HTML5, Girl, Frozen, Fashion, Elsa, Dress Up
Control :
Mouse or tap to play.
Author :
cutezee.com
---
Komentarze
Zaloguj się lub zarejestruj, aby dodać komentarz