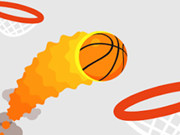 Dunk Shot
Kategoria :
physics
Oceny graczy :
(0)
---
Opis :
Dunk Shot is a very interesting arcade game. In this game, all you have to do is pour the basketball from one basket to the other. In the process of dunking, to collect stars, unlock more basketball to dunk. The more you dunk, the higher your score will be. If you fail, the game will over. Have fun and good luck.
Hasła :
skill, physics, kids, HTML5, highscore, collecting, Boy, Basketball, ball, arcade,
Control :
Click and drag to play.
Author :
bestgames.com
---
Komentarze
Zaloguj się lub zarejestruj, aby dodać komentarz