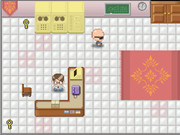 Esc 4 Home
Kategoria :
escape
Oceny graczy :
(0)
---
Opis :
Today is such an exhausting day, but I still have finished all my work and ready to check out, my girl called me to date tonight, but my boss suddenly rush out and say my work is all shit and I have to stay here to do it all over again! No! He is just being capricious! I have to go and meet my girlfriend today, whatever my boss would say tomorrow. I have to sneak out today. Please help him avoid being caught by the boss and get all the keys to sneak out. Have fun!
Hasła :
room, retro, Pixel, kids, HTML5, escape, collecting, Boy, avoid
Control :
Arrows or swipe the screen.
Author :
minzaogames.com
---
Komentarze
Zaloguj się lub zarejestruj, aby dodać komentarz