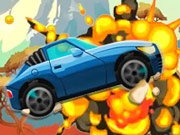 High Hills
---
Opis :
High Hills is a free driving game. You can control the car to complete the impossible challenge! In this game, you can feel the best driving experience. Collect gold coins, complete stunts, and cross obstacles. If you are not careful enough, your car may crash! Join the game to test how far you can go. Good luck and have fun playing with it!
Hasła :
Stunts, skill, Obstacle, kids, HTML5, Driving, collecting, car, Boy, Balance
Control :
Use your mouse to play.
Author :
famobi.com
---
Komentarze
Zaloguj się lub zarejestruj, aby dodać komentarz