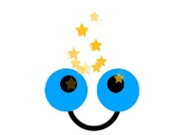 Lovely Eyes
Kategoria :
physics
Oceny graczy :
(0)
---
Opis :
Lovely Eyes is an interesting game. In the game, you only control one eye, and you have to guide it by sliding through physical forces to find the other eye. Be careful to avoid black objects and I hope you can make two eyes together and have a lot of fun.
Hasła :
skill, physics, Obstacle, Launch, kids, HTML5, Boy, avoid, arcade, android
Control :
Drag left mouse button to aim, release to launch.
Author :
nosite.com
---
Komentarze
Zaloguj się lub zarejestruj, aby dodać komentarz