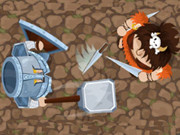 Minigiants.io
---
Opis :
Minigiants.io is an excellent multiplayer game. There are two ways to upgrade yourself: one is to absorb the scattered energy on the map, and the other is to kill the enemy to make yourself stronger. In the game, you need to improve your power constantly to fight against powerful enemies. In this cruel and exciting world, you will be the strongest king. Good luck.
Hasła :
Sword, skill, PVP, Multiplayer, Killing, kids, HTML5, highscore, collecting, Boy
Control :
LMB to attack. RMB to boost your speed.
Author :
minigiants.io
---
Komentarze
Zaloguj się lub zarejestruj, aby dodać komentarz