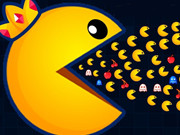 Pacman.io
---
Opis :
Do you want to play classic Pac-Man games with many players? Now, Pacman.io has realized your dreams! Like your favorite Pacman game, the more beans you collect, the better. The difference is that other bigger players can devour you, so you must use the obstacles on the map to avoid enemy attacks. Similarly, when you have more power, you can eat other people to absorb more energy! Wish you live longer in this fun world! Enjoy this amazing game!
Hasła :
skill, retro, Multiplayer, kids, HTML5, collecting, Boy, avoid, arcade, .io
Control :
Press left mouse button or space bar to boost speed.
Author :
pacman.io
---
Komentarze
Zaloguj się lub zarejestruj, aby dodać komentarz