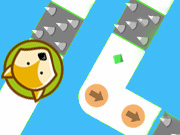 Tap Touch Run
Kategoria :
other
Oceny graczy :
(0)
---
Opis :
Tap Touch Run is a running game. In the game, you need to use the mouse click on the screen to change the direction of the dog. When the dog run, collect diamonds, avoid obstacles, and don't run outside the white road. You have to click on the screen at the right time so that the dog will live longer. Concentrate on the road, or the dog will die and the game will be over. Challenge the game quickly and get a high score. Have fun and good luck.
Hasła :
skill, Running, HTML5, highscore, collecting, Boy, blood, avoid, animal
Control :
Use the mouse to play.
Author :
yiv.com
---
Komentarze
Zaloguj się lub zarejestruj, aby dodać komentarz